"My husband Terrell and I are proud parents of five beautiful children, but we didn't grow our family the way most do. We are foster parents through our local foster agency. I had always dreamed about adopting a child and had became a foster parent in my early twenties. When Terrell and I married in 2016, I had let my license expire. Not long after Terrell said, 'How about we get licensed together and adopt from foster care?' We began the process, and in 2019, we adopted two of our foster children, Hallie and Jayden. I remember at their adoption the lawyer told us, 'See you in a couple years when you guys adopt another!' We both said, 'No!! This is it!' I also had two kids from my previous marriage and four kids felt right. Two boys and two girls. Our family was complete. Or so we thought!
Much to our surprise, a few months ago, we welcomed our daughter Ava into our family. She is the sweetest little girl and I can't help but think we could have missed all of this. I'm so thankful God surprises us sometimes.


After Hallie and Jayden's adoption, we decided we did want to continue fostering but we would most likely not adopt again. So we kept our license active and continued to love on each child as they came and went. In 2020, right before Covid, we had taken a placement of a baby boy. Being locked down and spending all our time at home, I became super attached to him and started thinking about maybe adopting one more. We didn't really discuss it much at this point, but I remember the feeling of not wanting to let go and thinking how much I would love to be a mommy one more time. When he left, I felt like a little part of me was missing.
He went home with his family when he was about eight months old. I missed him so much, but we knew he was going to be happy and loved. Once again we had an empty place in our home. The following month, our surprise came. In October, just a few days after Terrell's birthday, we received a phone call from our little girl's bio grandma. She had gotten a call from CPS that her daughter had recently had a baby girl. She was told she was in foster care a few hours away. 'I was hoping you guys would be able to take her.' We were so surprised! But of course we said, 'YES!!' We got all the info we could and started making phone calls. We were determined to bring her home so she could be with her sister.
At this point we weren't sure about the details of the case, if this would be a long term situation, or if she would be staying, but we knew either way these girls had the right to be together. As more info came in, I was getting so excited to meet her. I was able to talk to her foster mom and learn a little more about her. She was born almost three months early and only weighed a tiny four pounds at birth. She was withdrawing, had trouble eating, and was born with several other complications. Later, we were told she could have some potential health issues that could cause vision and hearing loss and other issues as well, but we knew whatever her future looked like we would be there for her.
A few weeks later, we got the call that she would come home the following day! We sat the kids down and told them, 'Hallie has a brand new baby sister and she is going to come live with us!' They were all so excited. The morning she arrived, Hallie was dancing all around the living room, pulling back the curtains every couple of minutes to see if her sissy was here yet. Finally the moment had arrived and the caseworker pulled up in the driveway. He carried her in the door strapped in her car seat and instantly all the kids surrounded her, eager to get the first peek of their new sister. She had the biggest blue eyes and the best facial expressions ever! Sweet baby Ava stole our hearts right away.
I wasn't prepared for the connection she and Hallie would immediately have. The first night she was here, Hallie made a cot by her crib and refused to sleep apart from her. 'My sissy wants me,' she would say. And it never stopped. Everything Averleigh does, Hallie is right there. If I take one of the girls somewhere, the other has to come. They are inseparable. The bond they have is so precious. She quickly found her place in our family and stole all of our hearts, and of course she became a daddy's girl just like her big sister.

As the days went by, I was terrified that one day she might leave. I couldn't imagine having to separate the girls. We prayed her case would lead to adoption and the girls would grow up together. Siblings are meant to be together. And as much as they needed each other, we needed her too. December 30th, I got a text from my caseworker. 'Both parents were terminated and they denied post termination visits.' This meant she was cleared for adoption and the paperwork process could begin. She would soon be ours forever!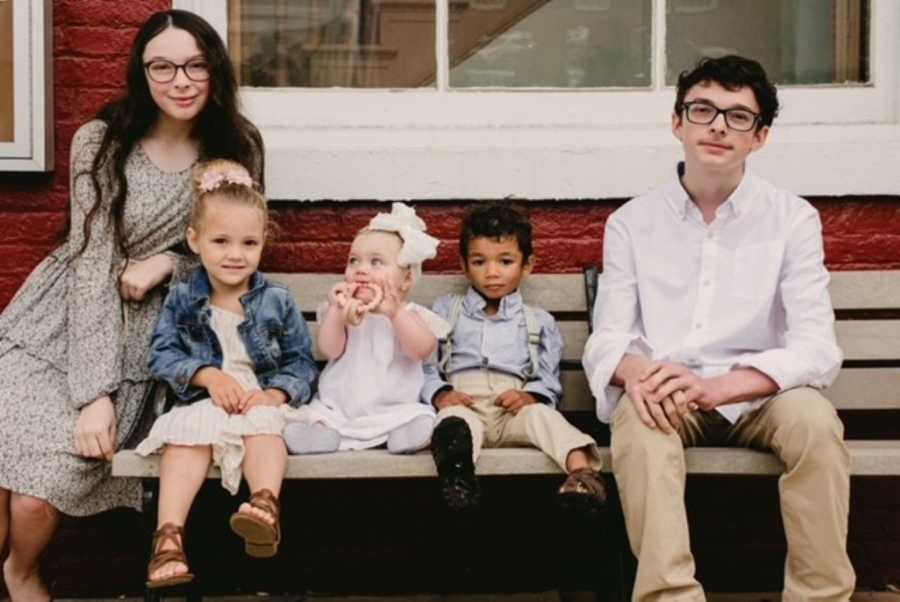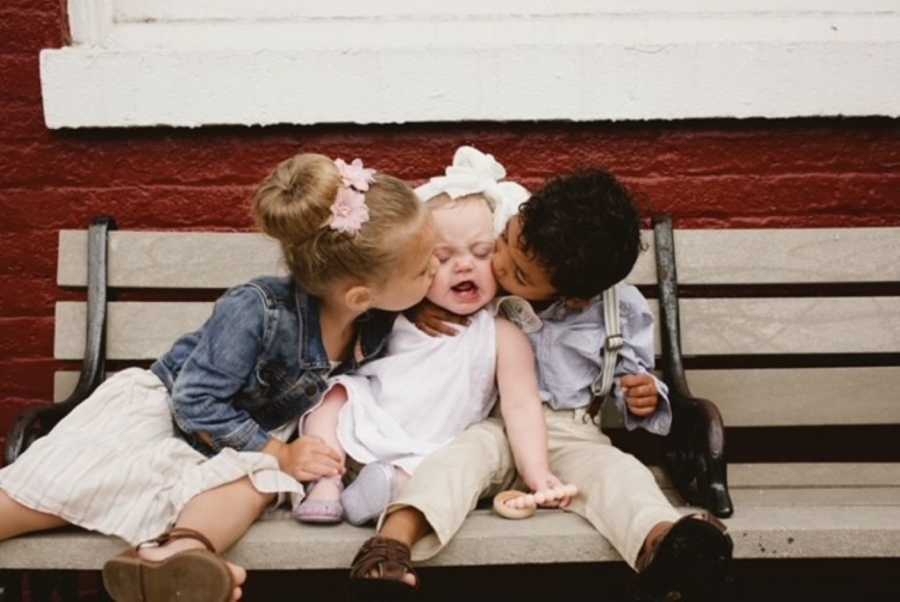 It took a few months, but in March her paperwork was done and we were waiting on her adoption date. During this time we had been going to all kinds of doctor appointments. She was born with a tongue tie, but her sucking had greatly improved. She had bad reflux issues so we had to constantly keep her elevated to keep her food down. She also had lots of tests done to determine if there was any damage from the infection she had been born with. One by one, she surprised each doctor with how well she was doing!
She finally got the test that said she was now negative for infection and never showed any signs of any long term health effects from it. God had his hand on our little girl. We continued to wait for our big day! The countdown seemed to take forever, but finally the day had arrived! For 286 days, God wrote foster care into Averleigh's story. But on June 11, 2021, He wrote ADOPTED! That day, wearing the same dress her big sister had worn a couple years before at her adoption, Averleigh officially became a part of the family. And yes, we used the same lawyer who told us he would see us again one day! He remembered us and said, 'I knew you'd be back!' She is the piece we didn't even know we were missing and I'm forever grateful God led her home to us.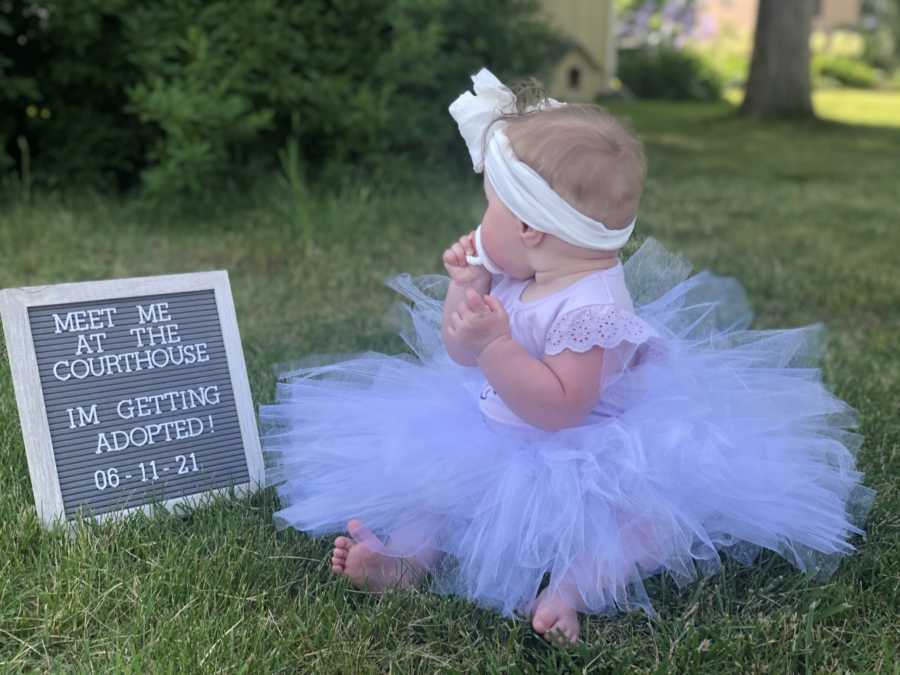 There are so many children out there that need a home and someone to love them. And many of them have siblings in foster care who are in need of a family willing to keep them together. If you have been thinking about adoption or foster care, follow your heart! It could be the beginning of a beautiful journey."
This story was submitted to Love What Matters by Rachel Brown of West Virginia. You can follow their journey on Instagram.