Kind Woman Helps Elderly Man Buy A Card For Himself On His 85th Birthday
When Louisa McKinney was shopping at a Dollar Tree in Flowood, Mississippi, she overheard a heartfelt interaction between two strangers.
"I stopped by Dollar Tree off Lakeland this afternoon to pick up wrapping paper," Louisa explained, "and I couldn't help but be drawn to this. This older gentleman very softly said to the lady in the photo, 'Ma'am, would you mind helping me out with something?' As she nodded, 'yes, of course, what do you need?' 'I need help picking out a birthday card.'"
The woman inquired a bit more and discovered that the elderly man was shopping for a birthday card, but it was for himself. The man's wife wanted to give him a card, but she was very ill and was not able to leave the house.
"'Who is it for?' she asked. This is where I started to sniffle. 'It's for me, if I wake up tomorrow, I'll be 85. My wife wanted to get me something, but she's very sick and cannot leave the house, and I want her to know I got a birthday card from her.'"
Louisa was quietly moved to tears as she listened nearby to the exchange between the woman and the elderly man. He told her a little bit about his life and his loving relationship with his wife, all the while this kind woman listened to him with such heartfelt focus and care.
"He continued on to tell stories of how they've been married since they were teenagers, had children, and how she was there for him while he served in the military. It was the picture of love you only read about. I felt so privileged to get to hear this conversation. Melted my heart."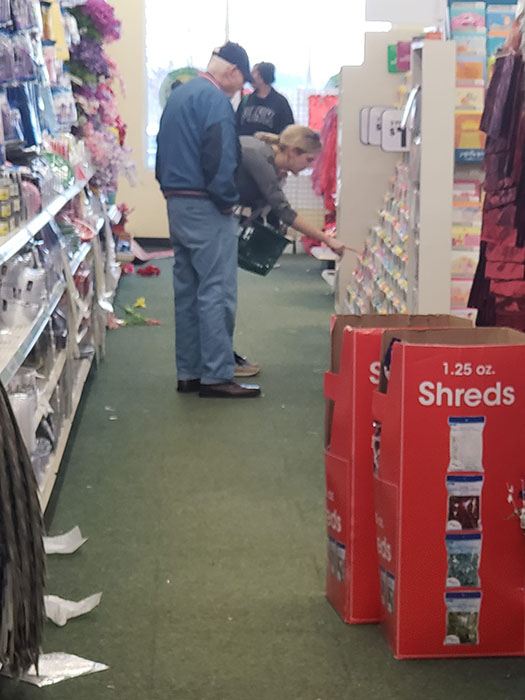 -Advertisment-
"What a wonderful man," wrote Jean M.
"This is what true love is all about!" commented Donna N.
"You hear very little about the good guys but this is such a great story to be shared by everyone 😘♥️😘♥️🤗🤗🤗" said Tina K.
"Still wonderful people left in this world!!" wrote Starla P.
"Now I'm crying… so touching," wrote Marlene A.
"I'm sure that God smiles with every act of kindness, large or small!!!! God bless!" wrote Mary B.
You are Loved.