At 97 years old Martin Adler still has nightmares from his time in the war.
But the World War II veteran does have one treasured possession that reminds him of a happy moment during the time he served – a black and white photo of himself as a young American soldier standing with three beautifully dressed Italian children.
The picture was taken in 1944 in Bologna, in northern Italy, and the image captures a moment that the Florida war veteran will never forget.
The then 20-year-old is credited with saving the children as the Nazis retreated northward in 1944.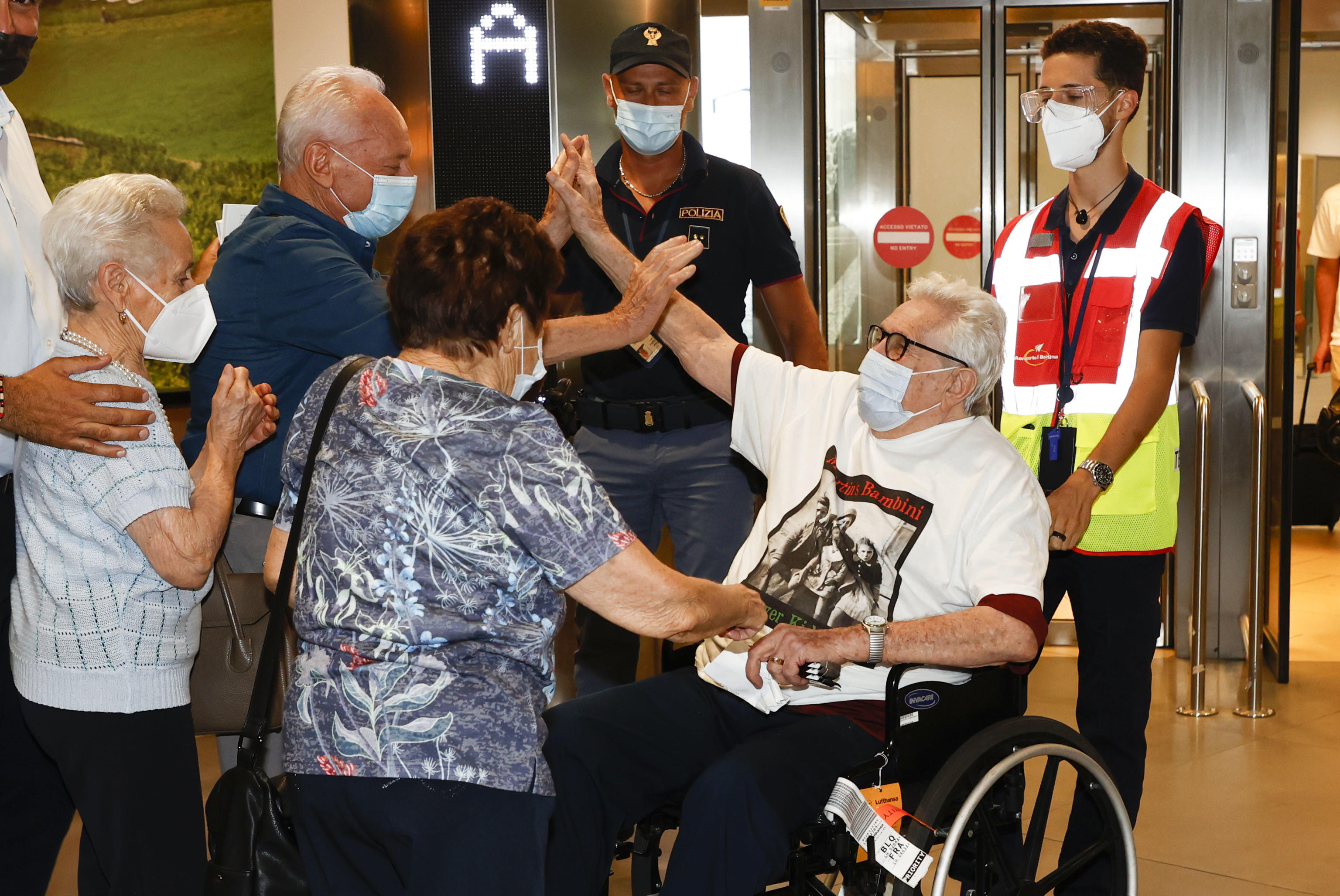 Martin had come across a house in Italy where he was stationed and entered believing a German soldier was hiding inside. Instead, he was met with three small children, aged between 3 and 6, hiding in a basket and a protective mom who threw herself in front of his gun.
"The mother, Mamma, came out and stood right in front of my gun to stop me (from) shooting," Martin told the Associated Press.
"She put her stomach right against my gun, yelling, 'Bambinis! Bambinis! Bambinis!' pounding my chest.
"That was a real hero, the mother, not me. The mother was a real hero. Can you imagine you standing yourself in front of a gun and screaming 'Children! No!'" he added.
Now, more than 70 years after that fateful day the World War II veteran was reunited with the children, now grandparents themselves, in Italy.
Martin met the three siblings with gifts of American chocolate just has he had given the children all those years ago.
"We ate so much of that chocolate," the youngest of the three siblings Giuliana Naldi said.
Giuliana was only 3 years at the time but her memory of the moment is more vivid than that of her older siblings Bruno and Mafalda.
'They were happy they didn't shoot'
She recalls climbing out of the basket and seeing Martin and another U.S. soldier, who has since died.
"They were laughing," Giuliana, now 80, remembers. "They were happy they didn't shoot."
Martin made the 20-hour journey from Boca Raton, in Florida with his daughter Rachelle Donley who says her father still trembles at the thought he was just seconds away from opening fire on the basket.
The happy reunion at Bologna's airport was made possible thanks to the power of social media, a local Italian journalist, and some detective work from Rachelle who decided to try and trace the children in the black and white photo during the COVID-19 lockdown.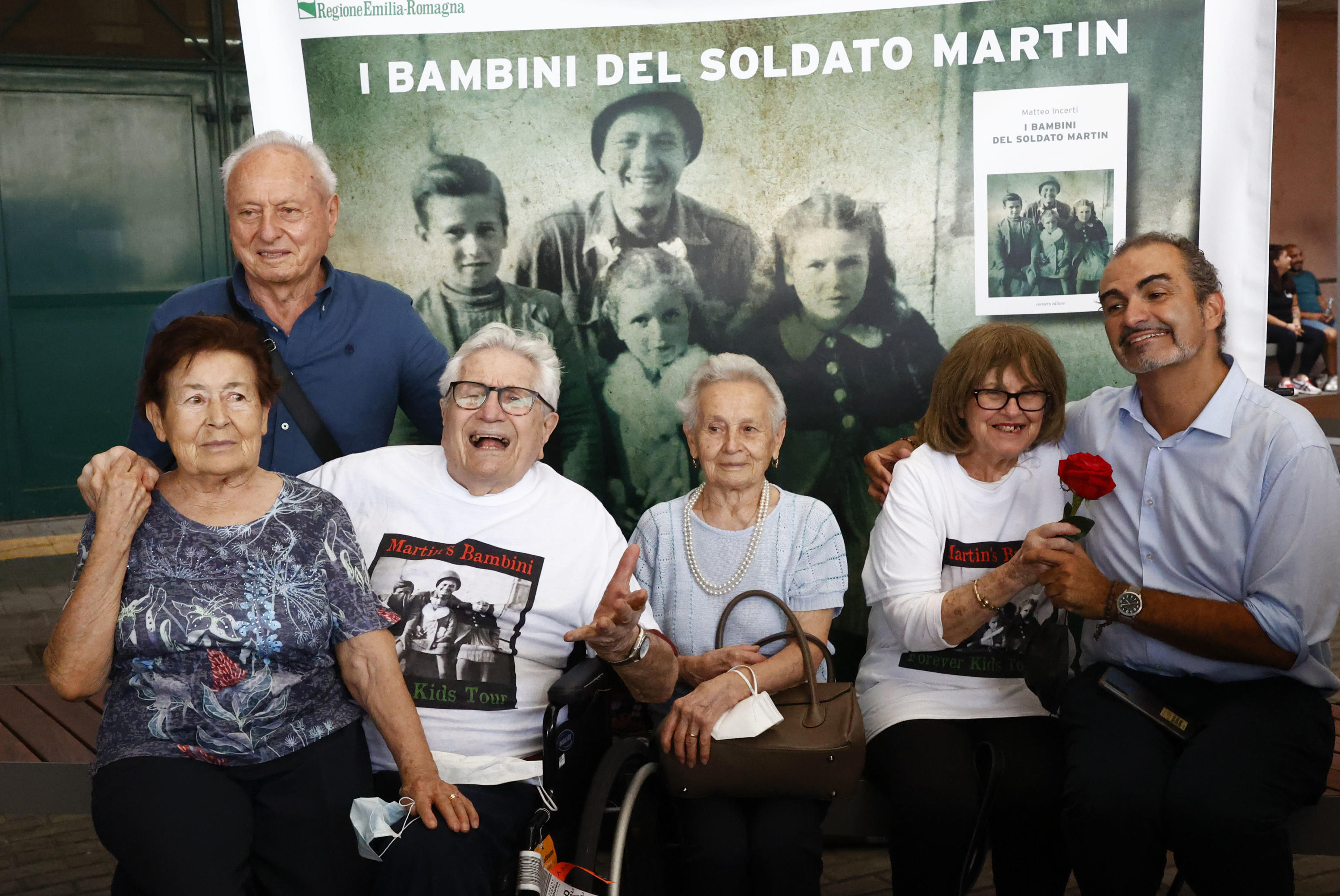 "I am so happy and so proud of him. Because things could have been so different in just a second. Because he hesitated, there have been generations of people," Rachelle said.
Guiliana's granddaughter Roberta Fontana said 6 children, 8 grandchildren and two great-grandchildren descended from the three children hidden in the wicker basket.
"Knowing that Martin could have shot and that none of my family would exist is something very big," Roberta said. "It is very emotional."
Martin plans to spend some time in the village where he was stationed, before traveling on to Florence, Naples and Rome, where he hopes to meet Pope Francis.
"My dad really wants to meet the pope," Rachelle said. "He wants to share his message of peace and love. My dad is all about peace."
Such a beautiful moment to honor the bravery and heroism of those who put their lives on the line to save three children.
Help us thank Martin Adler for his service by sharing this story.