Upon graduating, one student's most cherished memory was that of a kind woman who helped feed him when he was unable to afford food.
The University of Illinois Chicago graduate shared his favorite graduation photo, which was him in his graduation gown standing next to an employee who had fed him for his four years at school.
"My favorite graduation photo that I took. This woman at my campus' Subway kept me fed for 4 years."
Many students struggle to get by on low budgets during their college years, and when this student couldn't afford to eat at times, this kind woman went out of her way to help him. Her help is something he says he will never take for granted.
"When I was low on money, she came through for me. I'll never take her for granted."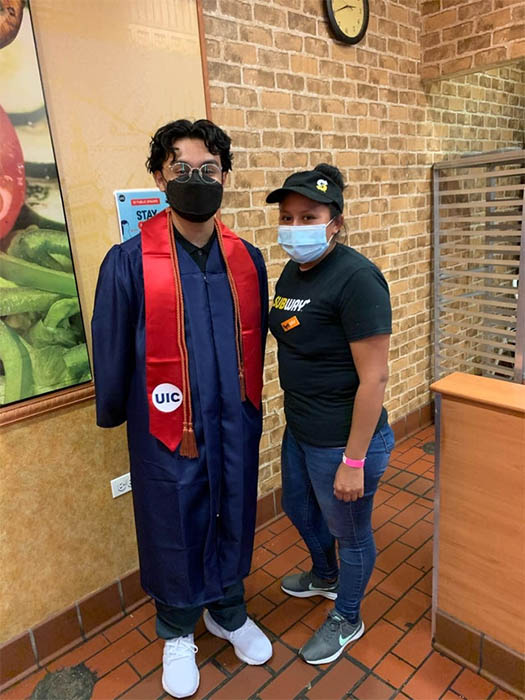 Thousands of hearts have been touched by his simple yet meaningful message of gratitude.
"When you come to the realization that you never succeed entirely on your own and that actually the impact of others is the reason you are where you are, then you have truly succeeded. Congratulations on your achievement," wrote one person.
"Well said. Humanity is beautiful," commented W.M.
"People like this make the world go round," wrote J.H.
"Moms ain't always blood. Sometimes you find a few along the way," wrote Justin S.
"I'll never forget when the guy at the pizza place in Providence that kept me fed for 2 years in graduate school gave me free slices when I graduated. They'd thrown me a slice or two free over that time but those slices just hit different, like they were really proud of me and keeping me fed. Congratulations btw," wrote R.D.
You are Loved.