In the 1960s, the story of a man and his talking horse captivated the globe. The show was Mister Ed, and it followed the hijinks of a talking horse named Mr. Ed and his keeper Wilbur Post. The show became an instant classic, and the character of Ed has popped up everywhere from rap music and comedy sketches to children's shows.
Lighthearted and humorous at times, stubborn and imperious on occasion, the real Mr. Ed was a true trailblazer. In the wake of his passing we learned that while he could indeed be imitated, he was one of the greatest horse stars of all time.
Here are 24 fun facts that you didn't know about Mister Ed…
1. BAMBOO HARVESTER WAS THE REAL NAME OF THE HORSE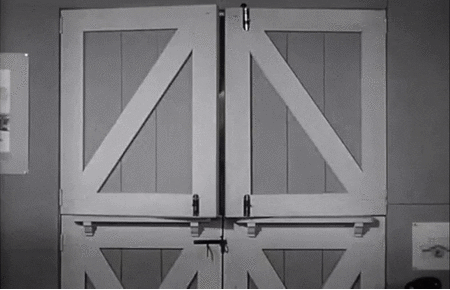 Bamboo Harvester was the name of the Palomino show horse that played Mr. Ed. Born in 1949, the Palomino lived until 1970.
Bamboo Harvester was a beautiful and energetic horse that caught the eye of many. He also won awards and accolades as a show horse. While his most notable footprint – or should we say hoof print – in Hollywood was his performance as Mr. Ed, his California neighbors remember fondly for both his spirit and his spunk.
2. PART OF A REVERED HORSE LINEAGE
This epic Equestrian celebrity's story began in sunny California. He was born in 1949 to two purebred horses and was eventually owned by Lester "Les" Hilton. His family came from a long line of purebred horses meant for show, and his father Harvester was one of the prized horses of the San Fernando Valley.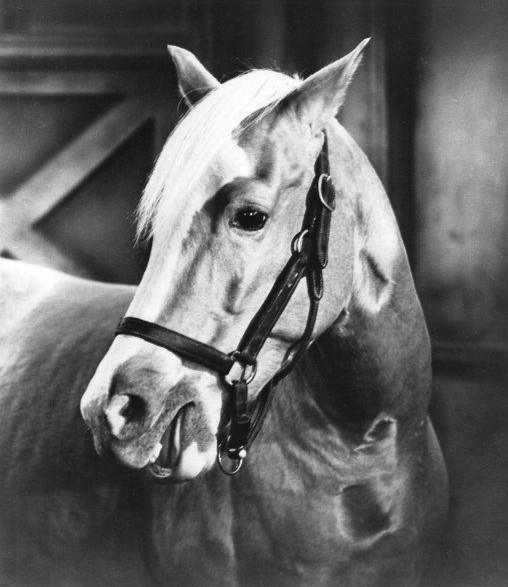 3. ORIGINAL MR. ED TRACES BACK TO 1937
The character of Mr. Ed originated from a series of magazine stories, that dates back to 1937. The short story, "The Talking Horse" appeared in an issue of Liberty Magazine, where he not only talked, he also got drunk.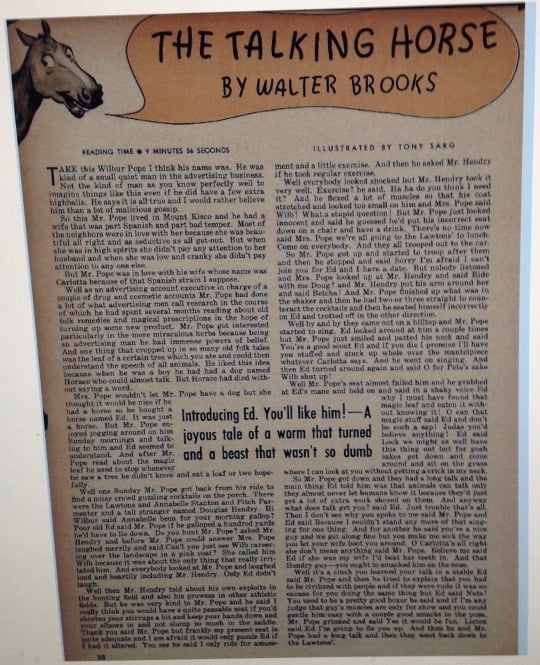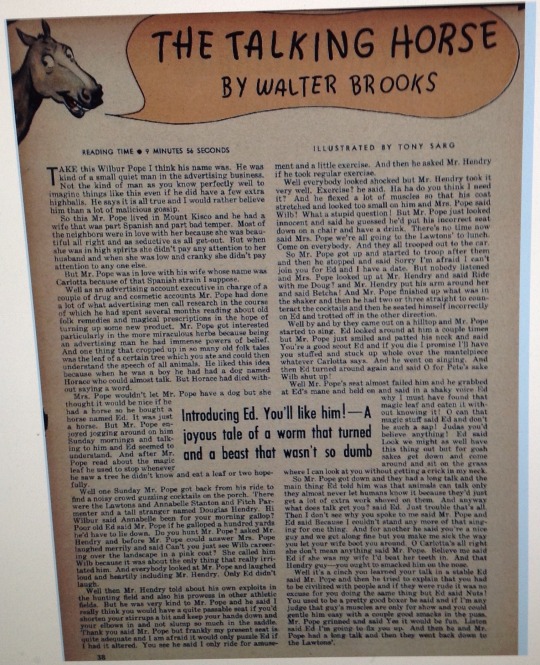 4. ACTOR REPLACEMENT
During the third season, Larry Keating (Roger Addison) passed away and was replaced by Leon Ames (Colonel Gordon Kirkwood.)
5. STUDEBAKER WAS SPONSOR. THE SHOW BEGAN IN SYNDICATION
At first, CBS refused to put the production on their network in 1960.  Studebaker Automobile Company, which sponsored the show, ended up purchasing it and putting it into syndication.  It was an instant hit, and CBS bought it one year later.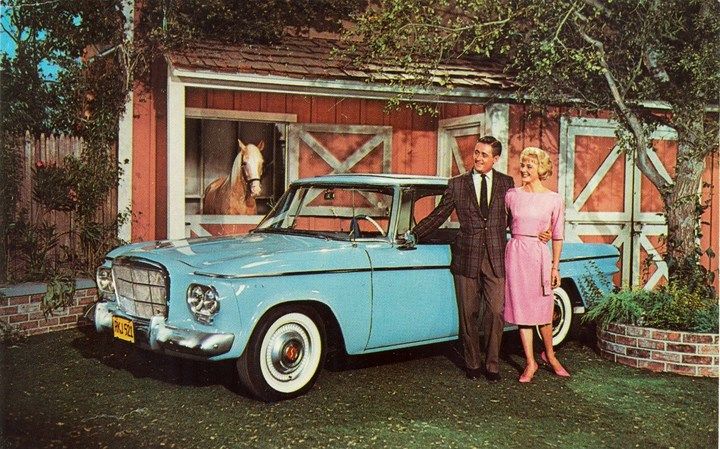 6. THE VOICE
Production only revealed the real name of the actor who played Mister Ed towards the end of the series. The uncredited voice was played by TV Western Actor, Allan "Rocky" Lane.
7. REFINED TASTE AND A HEFTY APPETITE
Mister Ed had a very refined and specific taste. His daily meal always included twenty pounds of hay and a gallon of sweet tea. That's not all he consumed. In an interview, Alan Young once said that they used peanut butter to get Bamboo Harvester to move his lips and "talk."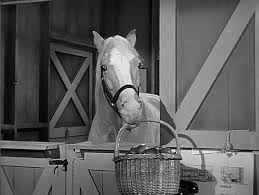 8. SCROOGE McDUCK
Alan Young portrayed Wilbur Post, which is the role he is best known for. In 1974, he began voice acting and played Scrooge McDuck in several Disney films.
9. BEING BLONDE
Because Alan Young's naturally light blonde hair blended in too much with Mister Ed's coat and mane, a makeup artist was required onset in order to regularly dye Young's hair. Once the show ended, he let it go back to its natural color.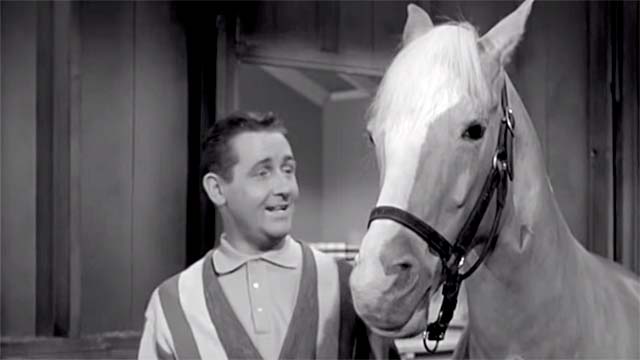 10. STUBBORN AS A MULE
The stubborn horse would respond only to his trainer, Les Hilton, which meant he had to always be on set to direct Mister Ed with commands or hand motions.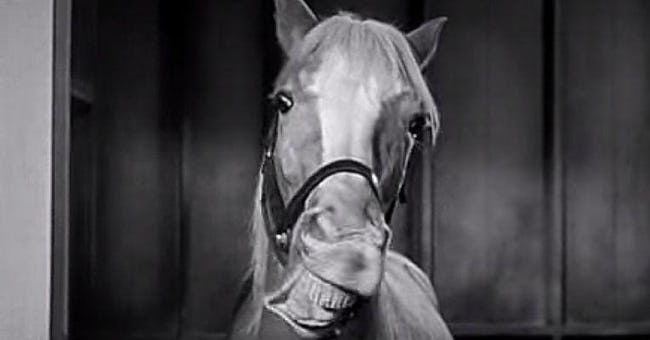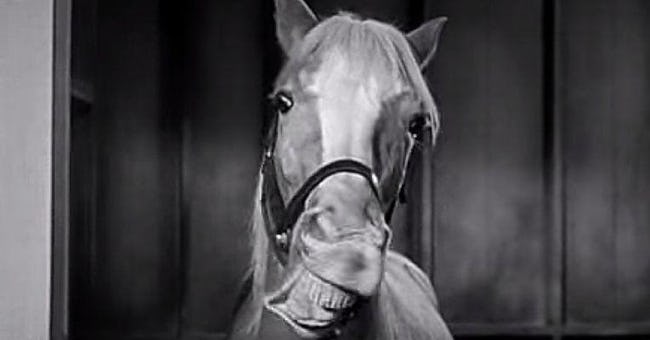 11. HISTORY OF THE THEME SONG
The first seven episodes didn't have lyrics in the opening theme song. When the theme song for the show was recorded, Jay Livingston sang it as a demo and was intended to be re-recorded by a professional singer. However, the show's producer liked the sound of his voice so much that they decided to keep it as the official theme song. And what a memorable one it has become!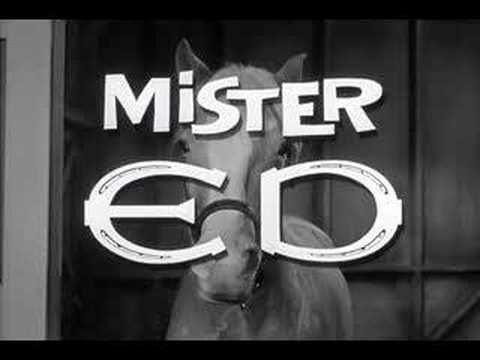 12. MR. ED HAD A STUNT DOUBLE
Mister Ed actually had a stunt double horse, whose name was Pumpkin. Pumpkin was a quarter horse and although he looked very similar to Mister Ed, his mane was white.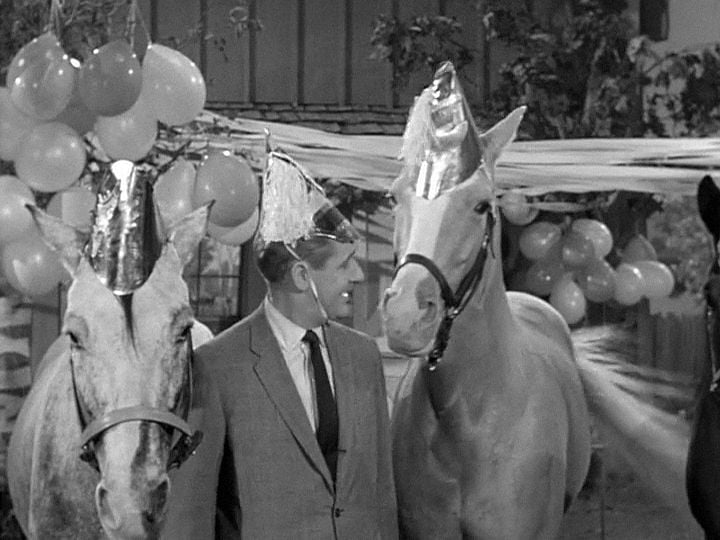 13. WILBUR WAS INTENDED TO BE THE NAME OF MR. ED
The initial plan during the development stage was to name Alan Young's character, Wilbur. He thought that was a poor idea. He claimed that if the show didn't succeed, he didn't want to be held accountable for it.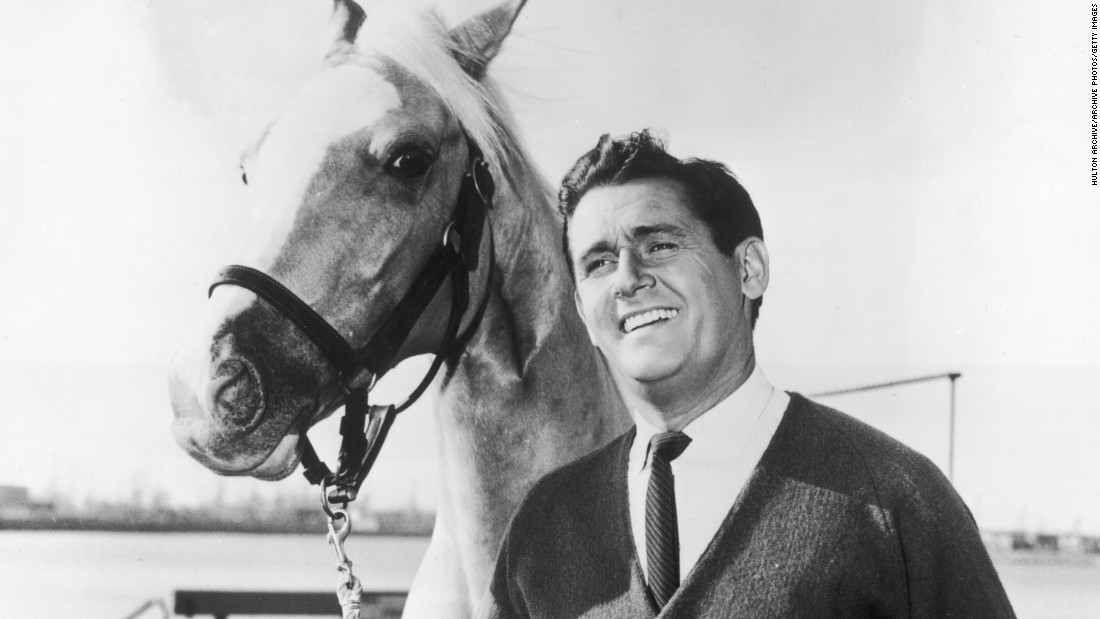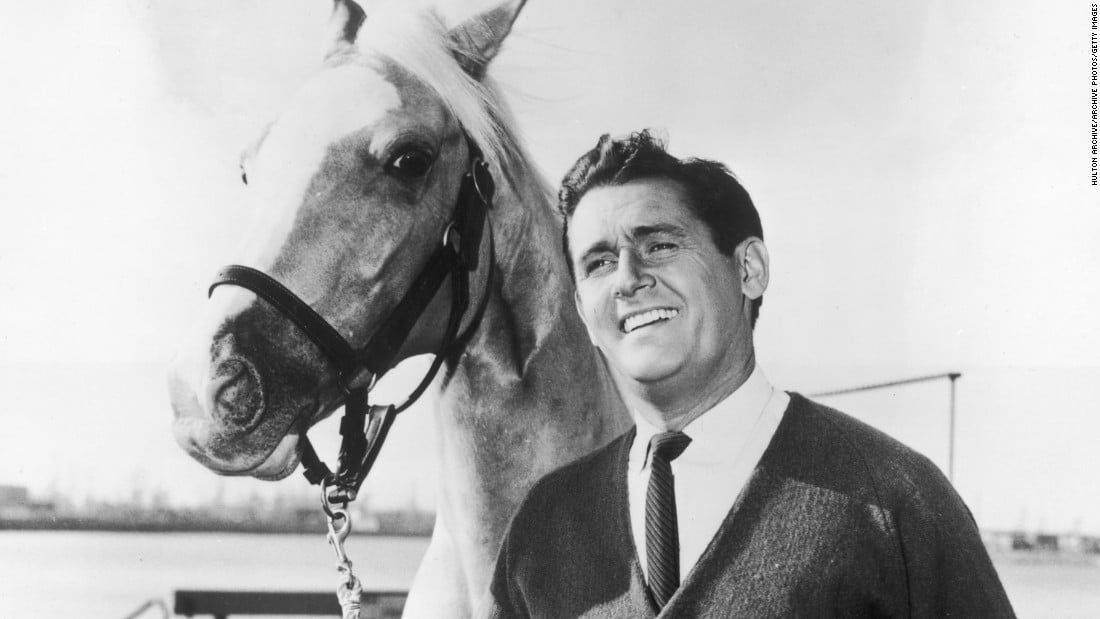 14. PATSY AWARD
Human actors aren't the only ones who receive special recognition and awards for their performances. In 1962, Mister Ed was honored with the Patsy Award. The PATSY Award was originated by the Hollywood office of the American Humane Association in 1939. They decided to honor animal performers after a horse was killed in an on-set accident during the filming of the Tyrone Power film Jesse James. The letters are an acronym and stand for Picture Animal Top Star of the Year. A later acronym was also included: Performing Animal Television Star of the Year. (Wikipedia)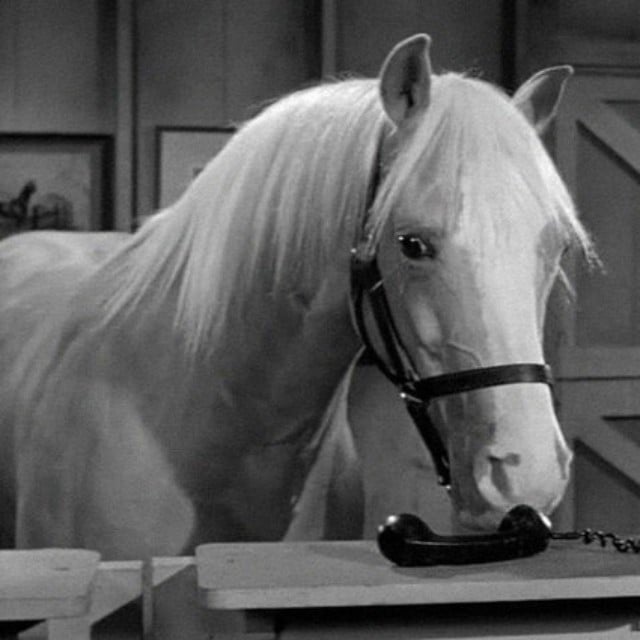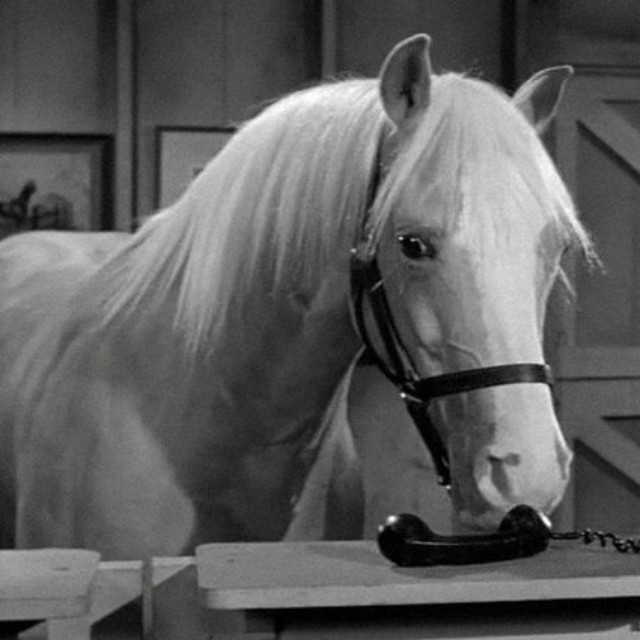 15. THEME SONG WASN'T ADORED BY ALL
Apparently, not everyone was fond of the "beloved" tune. A fundamentalist religious group in Ohio claimed the song was "satanic." "A Horse Is a Horse" contains the backward messages "the source is Satan" and "someone heard this song
"A Horse Is a Horse" contains the backward messages "the source is Satan" and "someone heard this song for Satan.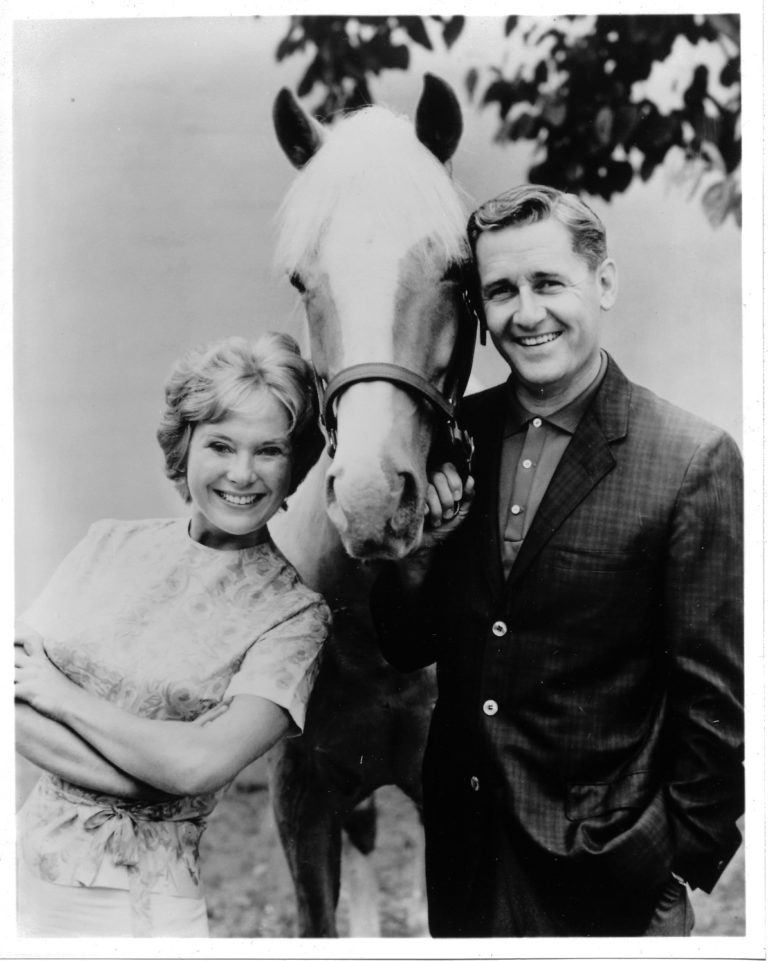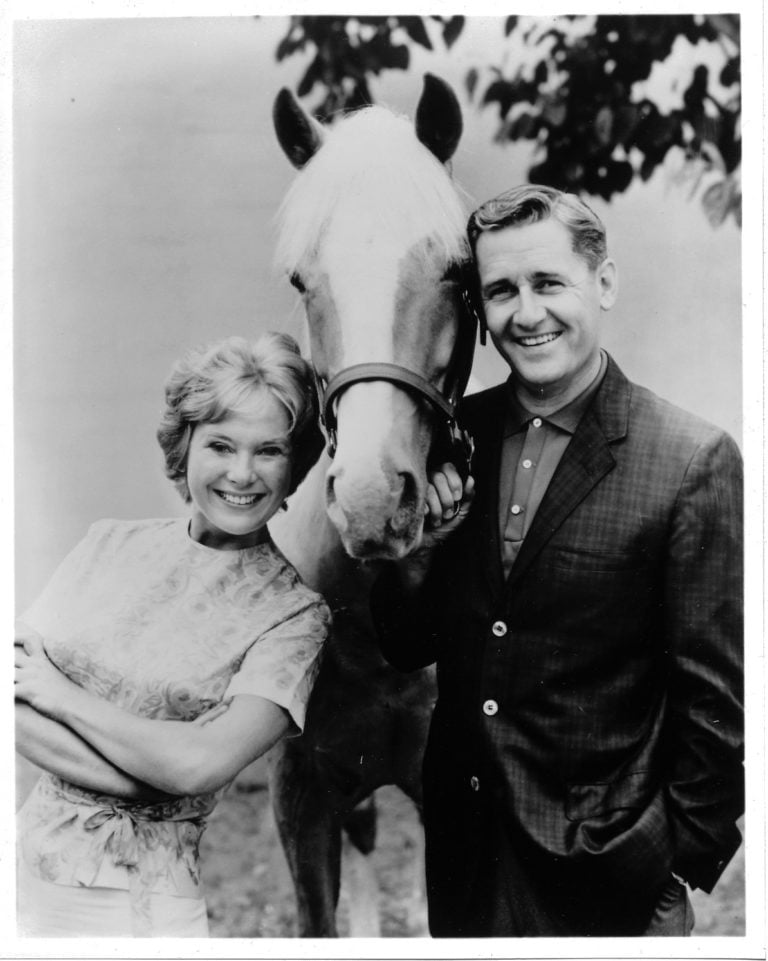 16. GEORGE BURNS HELPED PRODUCE THE PILOT
George Burns helped produce and finance the pilot episode of Mister Ed which cost him $70,000.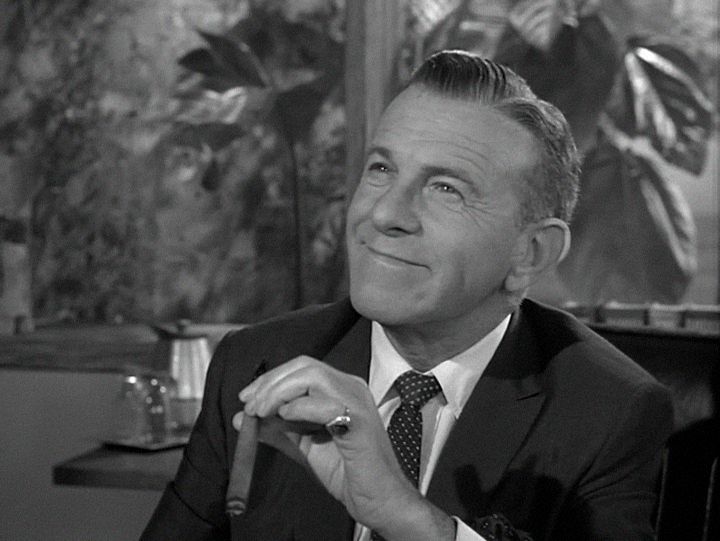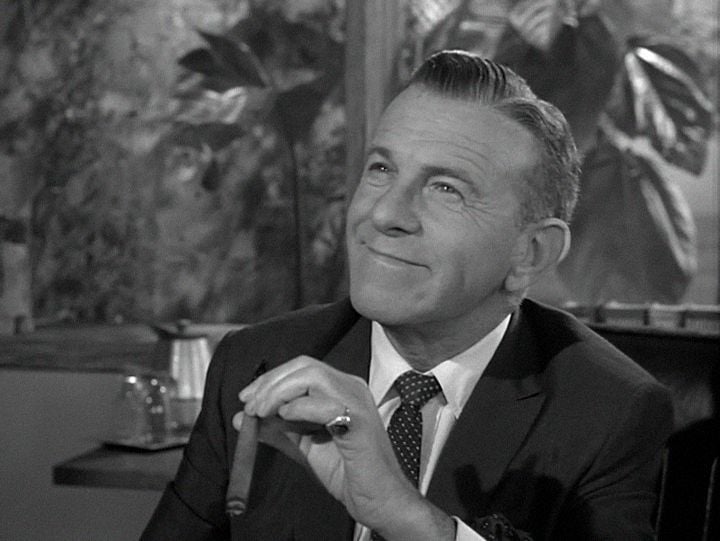 17. MR. ED WAS NO JACKASS
At the beginning of the series, the horse's trainer had to use a thread technique in order to get the horse to look like he's talking. Eventually, the horse learned how to move his lips on cue when his trainer would touch his hoof.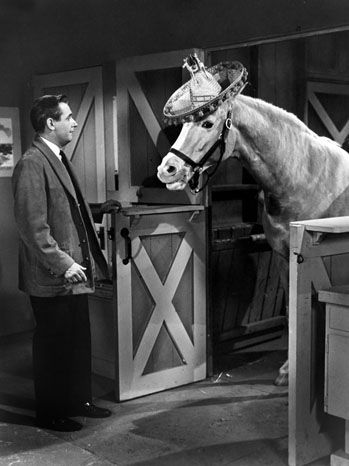 18. MOSIED OFF THE SET
When Mr. Ed got tired of working, he would simply just walk off the set. In fact, Mr. Ed could physically open the barn door.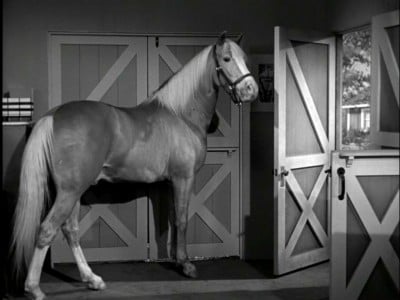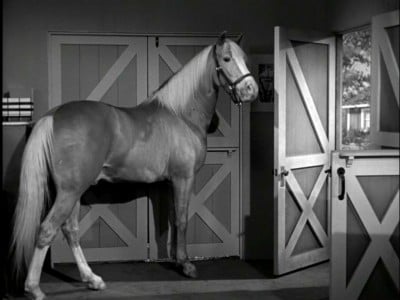 19. HELLO?
Mr. Ed knew how to answer the phone, he just didn't know how to talk.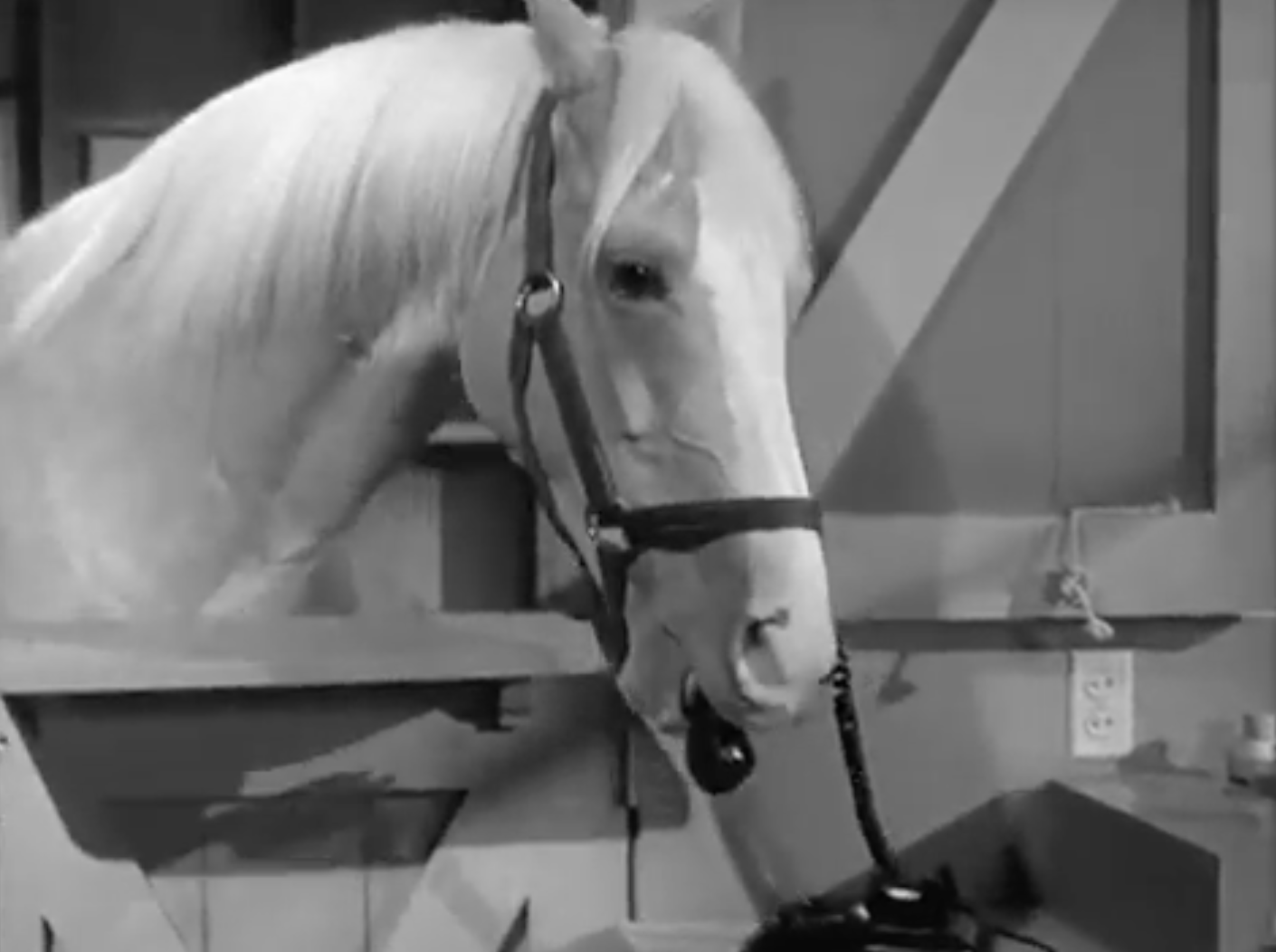 20. BEST FRIENDS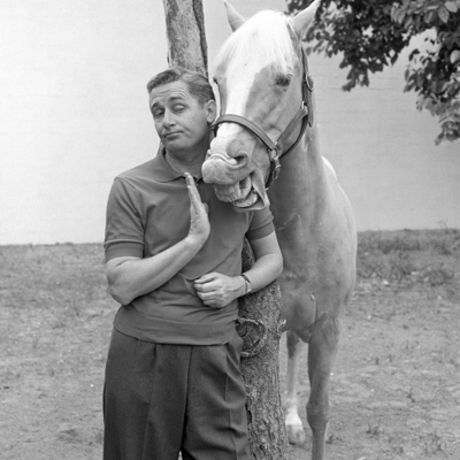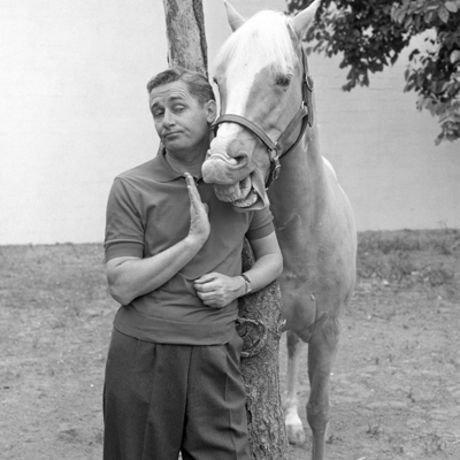 Long after the show stopped, Alan Young and Mr. Ed remained friends, and Young would visit the ranch regularly to come a ride Mr.Ed.
21. THERE WAS A MR. ED REBOOT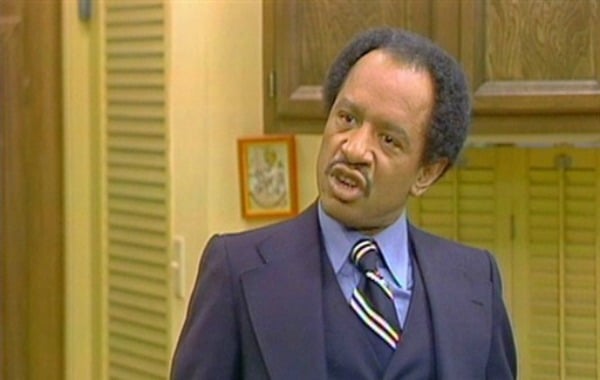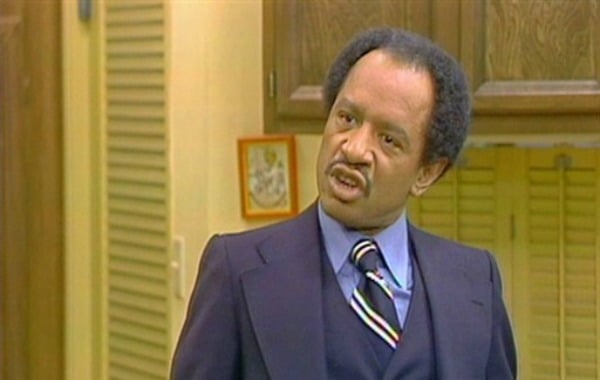 22. RIP
A housing developer intended to create a community near Tahlequah, Oklahoma, that would be built around the final resting place of Mister Ed and was intended to be themed to the style of the show and its period.
23. ALL IN THE FAMILY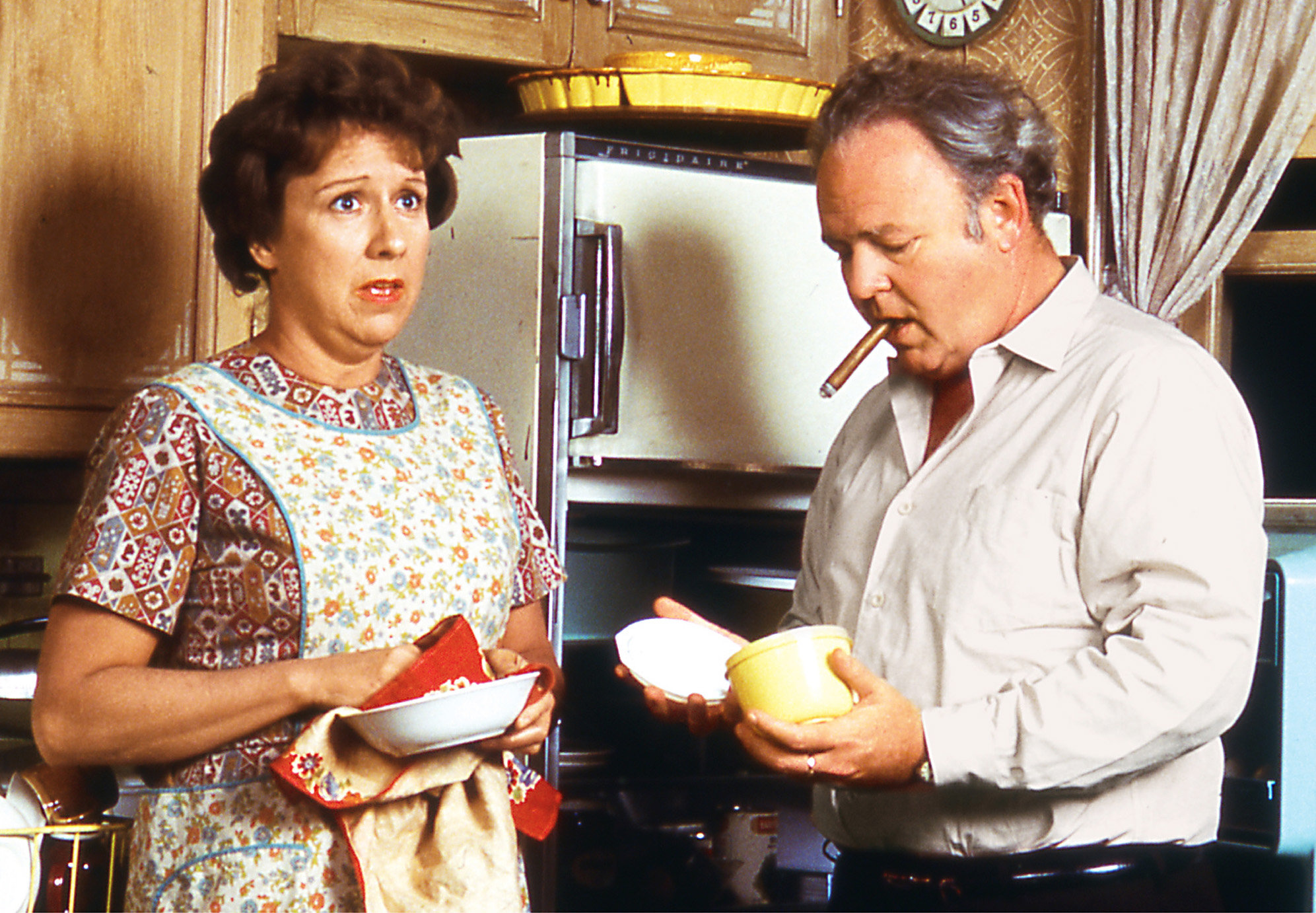 During an episode of All In The Family, in which Mike and Gloria feed the Bunkers horse meat without telling them, Edith mentions Mr. Ed by claiming "I keep thinking about Mr. Ed!"
24. CLINT EASTWOOD APPEARED ON THE SHOW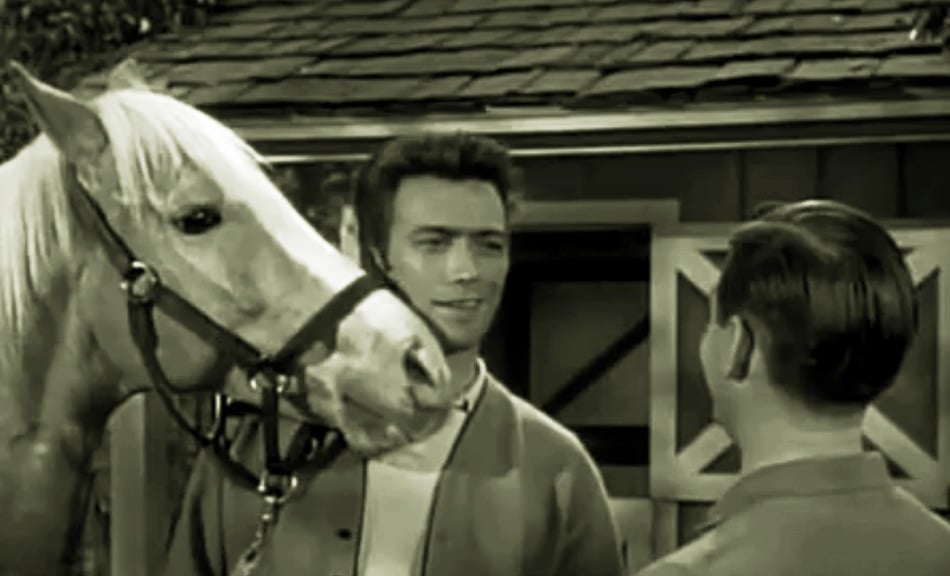 Yep, that's Clint Eastwood! A much younger Eastwood, but he looks just the same these days, no?
(Sources: Urban Joker)
That was one high pedigree show with some quality tricks under its hooves. WHat does the Mister Ed show remind you of? Is it the best animal-led show of all time? Or are you more of a Lassie fan. Let us know in the comments below, and let's toast to one special horse.
If you were a fan of Mr. Ed and LIKE this story, please share this story.