When a young family learned that they did not have enough money to pay for their items at checkout, a kind stranger appeared and paid for their entire bill.
Tara and Sam Thompson were in a checkout line at Target when they overheard the family in front of them tell the cashier that they did not end up having enough money with them to pay for their items. The mother then began handing several items back to the cashier asking to remove them from their bill.
"Sam and I were at Target yesterday," Tara shared. "The couple near the cart didn't have enough money for their purchase. The lady in the green shirt started to hand things back to the cashier to be able to afford what she had."
As quickly as Tara noticed what was happening in front of her, a kind woman from an adjacent lane walked up to the family and told them that they did not need to return anything; that she would pay for everything.
"The lady in the black shirt came out from her lane and said you don't need to return anything, I will pay for the whole thing. She pulled out her card and did just that."
The mother of the young family brought her hand to her face and began to gently cry.
"The lady in the green shirt started to cry. We all just experienced such kindness. What a great story to share amongst all this pain in the world," Tara shared.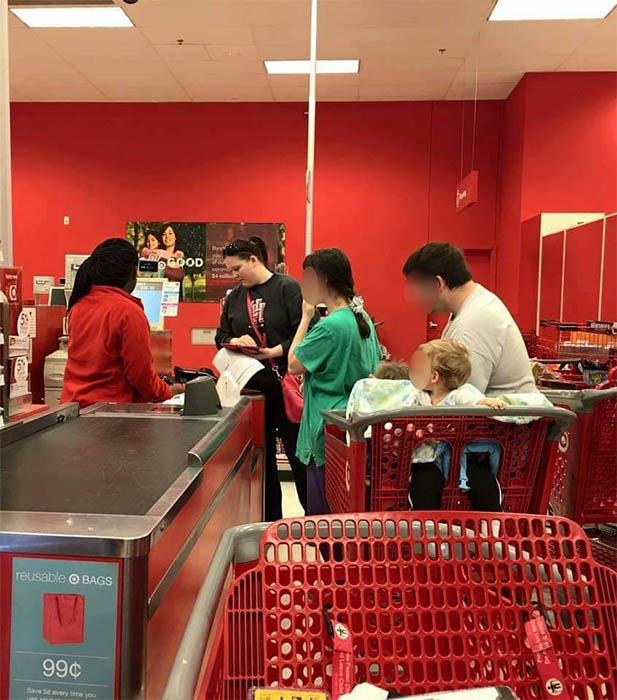 Many hearts online have been moved by the kindness shown by the woman in black.
"It is so sad [when] people really need everything they have in a cart, and [come] check out, find [that] they have to put stuff back just so they can pay for it. It breaks my heart to see this, some are young people with a family, older seniors on fixed incomes, or just a regular Joe who ran out of money due to an extra bill that wasn't supposed to be there. But it makes me feel good to see people help others in need without wanting anything in return. THANK YOU TO ALL WHO HELP OTHERS IN NEED," wrote Dona K.
"Someone did that for me once when I was buying extra cat food as it was on sale. I told her NO, I'll just put some back. She pulled out a few bills and said, you wouldn't have put it in the cart if you didn't need it. I was shocked but it was true. I have since returned the gesture to others," shared Marcia F.
"I did the same thing at a store last year, a Hispanic couple that didn't speak English very well didn't have enough money and they were embarrassed as they were trying to decide what they didn't need too much. While everyone stared at them I pulled my card and covered the $16 that they were missing. It did make me feel good to help and I am sure they will never forget that either. Love seeing stories like this ❤️" wrote Nermina S.
"[When] I was in Walmart, there was a blind girl in 1 of those buggies that you push around & a lady pushing her & putting things in her cart. I happened to be in line behind them to check out. The lady was using the girl's card to pay for her stuff. The card kept getting declined. She was starting to panic. I asked how much was the bill, $76. I used my birthday money & paid for the whole thing. The lady kept coming back to me & giving me a hug. Now that made me feel good! The cashier told me that was the Christian thing to do and that God would bless me!" shared Hollie R.
"I was behind a young woman with 2 children at Walmart when this happened. She started to put things aside. The cashier got her change purse out, I paid her shortage, the couple behind me were ready to do the same thing. We need to care about others, there is always someone a little worse off than us. It makes you feel good!" commented Pat O.
"One Christmas eve I was at the store buying last minute things. When I was paying, the man behind me misunderstood how I was trying to pay and thought I didn't have enough money, and [he] paid for my things. I thanked him so much, it even made me cry… I [told him] I had the money… I wished him and his family a very Merry Christmas. I really wished for something wonderful for him. That was back in 1982. I will never forget that act of kindness. Once or twice I [also] tried to pay it forward 💝" wrote Sandra G.
Kindness is never forgotten.
You are Loved.