When a tired young mother was considering leaving a store to take her two crying children home, a kind woman came and helped comfort her 2-year-old, allowing her to continue shopping.
Rebecca Paterson was shopping at a target in Pearland, Texas, when her 2-year-old and 2-month-old both began crying at the same time. After noticing Rebecca preparing to leave due to her children being upset, a kind woman named Tiffany came over to help.
"Shout out to this wonderful, kind woman named Tiffany," Rebecca shared in a 'Moms of Pearland' group online. "My 2 year old and 2 month old were both having a meltdown at the same time in Target. I started putting things away on the shelf and was about to leave when she came over to help."
Tiffany helped comfort Rebecca's 2-year-old while she cared for her 2-month-old, and she was able to continue shopping for the daily essentials she needed.
"She walked with me while I got essentials needed for the day and kept hold of my toddler while he calmed down. She saved me today moms!!! I am so sleep deprived and was running on empty. A little kindness and understanding goes a long way."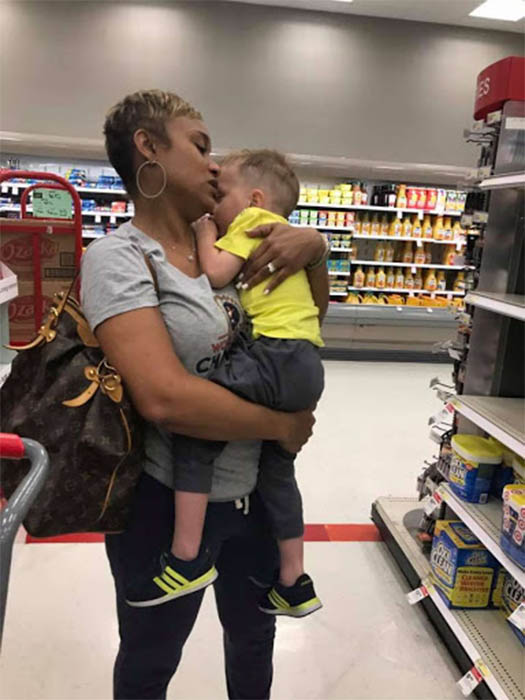 Rebecca plans to honor Tiffany's kindness by paying it forward and helping the next mom she sees in need of assistance.
"I'll definitely be paying it forward if I see a poor mom in need of help. Thanks Tiffany, you're an angel 😇" Rebecca shared.
Many hearts online have praised Tiffany's kindness.
"So heartwarming. I love this so much ❤️" wrote Erin C.
"It takes a village. A loving, caring village," commented Maureen L.
"Actually, you both are amazing. She for offering to help and you for accepting. Understanding that the needs of your children come first and that you needed a hand in doing it. I always hesitate to ask nowadays as everyone is so afraid… but, I always do… even if it's to watch the empty stroller as they take their child to the stall. If they say no it won't hurt my feelings, as I did what felt right," shared Daryce H.
"I needed this specific reminder desperately in this very moment— good people ARE everywhere. Thank you for that ❤️" wrote Danielle M.
"Just last week at HEB a kind stranger offered to help load my groceries when he saw me and the baby in the heat. There is always someone good in the crowd. Another time a man held an umbrella over us to get into the car in the heavy rain. Neighbors come over to check if the garage door was left open or collect packages. Be the change you want to see in the world ❤️ Offer someone a little help," wrote Jessica M.
You are Loved.