Kind Veteran Spends Retirement Years Mowing Lawns For Free For The Elderly
A kind veteran is spending his retirement years mowing hundreds of lawns annually for the elderly and those who are unable to do it themselves.
Rick Stitt has been helping mow the lawns of his neighbors in Chickasha, OK, for several years. The retired airborne infantry veteran first became inspired to help with lawns when he read an ad in the newspaper, written by an elderly lady, who needed her grass cut. He came by and mowed for free, and found that this was another way he could give back and help his community.
"This is Rick," Bruce McGrew of Kool 105.5 radio wrote in a post online. "For the last couple of years, Rick has been quietly mowing lawns around Chickasha, OK, free of charge, for people who can't do it themselves. A lot of lawns. 274 last year. Closing in on a goal of 300 this year."
Bruce learned of Rick's work of helping mow for the elderly, and he learned that Rick needed a new lawn mower. He asked listeners if they were willing to pitch in, and they quickly fundraised enough to buy him a new mower.
"This was brought to my attention yesterday and with the help of a few very generous KOOL 105.5 listeners, this afternoon we purchased and delivered a new mower to Rick. I have never met anyone so grateful and appreciative! Rick is a veteran and on a fixed income, and didn't have the funds to replace it."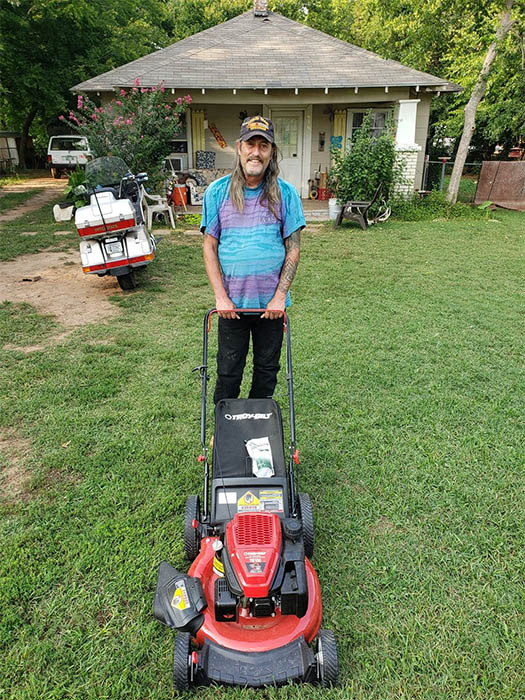 One elderly man who has his lawn mowed regularly by Rick is a 97-year-old veteran of WWII.
"Speaking of veterans, one of the recipients of his kindness is a 97 year old veteran of WWII, Korea, and Vietnam. Rick's payment is the joy he gets from helping someone in need and sometimes, a cold glass of lemonade. Bless you sir for what you're doing. A reminder that there are some truly wonderful people in this community. I don't think I've ever asked anyone to share anything before, but if you want to spread a little good news, feel free to do so."
When later asked why he helps so many people with their lawns, Rick shared that helping his brothers and sisters is very important to him.
"You gotta do what you can to help your brothers and your sisters. That's why I do this," Rick said.
You are Loved.