The 1989 film Field of Dreams has been a favorite for generations of movie lovers and baseball fans. The film, about a man who builds a baseball field in Iowa that attracts the ghosts of baseball legends, was nominated for Best Picture and is today regarded as a classic.
But while the movie is a fantasy, fans can still get a real-life Field of Dreams experience: the cornfield baseball field built for the movie still exists as a tourist attraction near Dyersville, Iowa.
Over the years, it has been the site of special baseball games, screenings and events honoring Field of Dreams.
But last night, the field hosted an incredible sports event with some very special guests — maybe not as miraculous as the ghost of Shoeless Joe Jackson, but still very cool.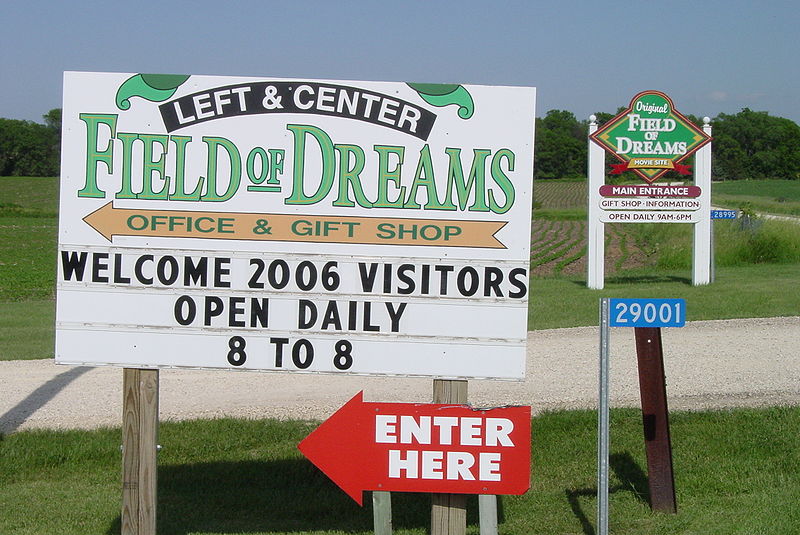 In 2019, Major League Baseball announced that they would be holding a special regular season game, between the New York Yankees and the Chicago White Sox, at the Field of Dreams!
Fans were thrilled by the announcement: not only would it be a great way to honor a movie that's so special to baseball fans, but it would make history as the first-ever MLB game hosted in Iowa.
And while the game had to be delayed a year due to COVID-19, the game finally got underway last night… with a special guest kicking things off: Field of Dreams star Kevin Costner!
In what is easily one of the coolest openings to a baseball game ever, the "Field of Dreams" game opened in a big homage to the movie.
Costner appears, to great applause, from the cornfield, looking around as the score from the film plays.
Then, he turns and sees the players suddenly appear out of the crops, just like they do in the movie.
Watch it and try not to get chills:
Costner then gave a speech to open up the game, reflecting on the impact Field of Dreams made and thanking the MLB for the event.
"Thirty years ago, on the other side of that corn, we filmed a movie that stood the test of time," Costner added. "Tonight, thanks to that enduring impact that little movie had, it's allowed us to come here again. But now, we're on a field that Major League Baseball made.
"We've come to see the first-place White Sox play the mighty Yankees in a field that was once corn. It's perfect. We've kept our promise, Major League Baseball has kept its promise. The dream is still alive. There's probably just one question to answer: Is this heaven? Yes, it is. This field is for the players. Good luck today."
(That last line is a reference to one of the film's famous quotes: "Is this heaven?" "No, it's Iowa.")
The game was a one-of-a-kind experience. The MLB went all-out to recreate the old-timey nostalgia of the film, including vintage uniforms and a scoreboard.
"That was as special and breathtaking a setting for a baseball game as I've ever been part of," Yankees manager Aaron Boone said, according to CBS Chicago.
It was still a regular-season game, and the White Sox beat the Yankees 9-8. The Sox provided a fittingly Hollywood ending after Tim Anderson hit a two-run homer in the 9th inning.
"The fans came to see a show, and we gave them a show," Anderson told CBS Chicago. "Being able to walk it off was definitely one of the best moments of my career, for sure."
But even for the Yankees, who fell to fourth place in the American League East standings, it was still worth it to be part of history and a totally unique baseball event.
But the MLB says they're looking to make this a regular thing: Commissioner Rob Manfred has said they are planning another Field of Dreams game for the 2022 season.
What a game! Baseball and movie fans have been waiting for this game, and it did not disappoint. Share this story if you love Field of Dreams!