When Sabrina Laffan was driving home with her son after letting him take a needed a day off from school, the young man noticed a homeless woman trying to push her cart on the side of the road while wearing baseball cleats.
"Today my son wasn't feeling well. He asked me to come home from school early and I said yes," Sabrina shared in a post online. "I decided to take him to lunch and on the way home we stopped to drive through the car wash. As we left, he saw this woman pushing her cart along the street.
He said to me:
"Ma, did you see that? She's wearing baseball cleats as shoes."
She literally walks all over every day and that's what she's walking in baseball cleats."
Her son felt deeply uncomfortable and heartbroken that this poor woman was not only homeless, but that she was also hurting her feet all day while trying to walk around with the only pair of shoes she had. Sabrina and her son quickly drove to Ross Dress For Less and took a look at what shoes were available, and he ended up buying her a pair of comfortable shoes and warm winter boots.
"We drove down a block to Ross and he went inside. He carefully thought out what he'd get. He wanted the most comfortable and the longest lasting shoes that would keep her warm too. He chose two pair: athletic shoes and also boots for the winter, along with a six pack of socks all for this woman he had never met."
After leaving Ross, they drove back to find the woman, and when her son got out and offered her the new shoes and boots, the homeless woman gave him a hug which contained all of her heart.
"We drove back to find her and he got out of the car to give her this gift. I had no intention of taking a picture, but I was holding my phone as I saw her reach up to hug him. It choked me up and I couldn't miss that moment. I opened the camera as quickly as I could and captured it. It brought tears to my eyes as he then helped her take off the tags and put them on."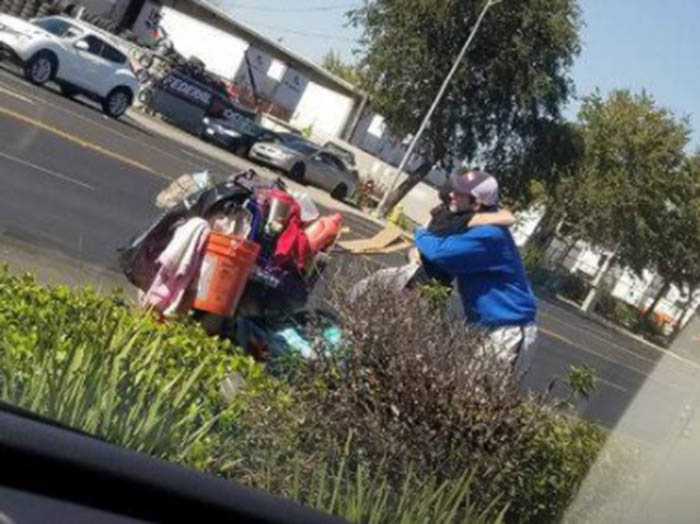 After her son got back in the car, he was quiet for a while, but then he told his mom that today happened to be the homeless woman's birthday.
"He quietly got back into the car and he sat there for a minute or so. When he looked over at me he said:
"Ma, today is her birthday. She was so happy."
The Universe works in mysterious ways. He had a rough day and wasn't feeling great, but this simple act of selflessness turned it all around. It put things in perspective for him and for me, too. Lots of little things fell into place to make this happen at just the right time. He didn't ask questions, judge her or talk negatively about her situation.
He simply cared."
"He didn't freak out when this woman reached up to hug him.
He hugged her back tighter.
We need more of this in the world, especially now when there's so much turmoil.
Take this example and use it.
I challenge everyone to love a stranger with the innocence of a child.
Show compassion and give what you can.
It doesn't have to be a lot.
My son goes to school, plays football and works six hours per week. He took basically one week of his pay and unknowingly made this beautiful lady's birthday special – all because he cared."
Thousands of hearts have appreciated the compassion Sabrina's son showed the struggling homeless woman wearing baseball cleats.
"What a beautiful story. Happy birthday to this woman and a big thank you to this young man for making her day special ❤️ " commented Patty S.
"You have raised a wonderful young man, this world will only get better if all parents teach children to care for others," shared Donna S.
"This made my day. Thanks for sharing," commented Alexandra A.
"What an amazing and inspirational young man. It's the little things in life that can make a huge difference," wrote Zita P.
"Made me cry. You have raised an awesome son so that makes you a wonderful mom and one day his wife will be one lucky woman!!! Thanks for sharing!!!" wrote Lucinda H.
You are Loved.