Four members of a New Jersey family have been killed in a "horrific" car crash over the weekend.
George Ritter was returning from a birthday party with his two daughters and his niece on Saturday night in Gloucester County when the single-vehicle crash happened, as per People citing Westville Police.
The dad has been identified as George Ritter and his girls Alivia, 5, and Elsie, 9, along with his 8-year-old niece Kenzie.
The 33-year-old dad was driving home from Westville Power Boat Association at around 9 p.m. when the vehicle crashed into a utility pole, according to ABC affiliate WPVI, around a mile and a half from his home.
The cause of the crash remains unknown.
Kenzie's heartbroken father, Brian Mammoccio, said his daughter was "caring and honest and full of life and spark."
He added: "I wish I could have her here next to me, give her one last hug because I never got to say goodbye to her.
"Cherish every moment you have with your children because you never know when that moment can be taken away. I only got eight years with mine."
One of Ritter's neighbors told CBS local that: "He was a nice guy. He always had his kids and he took them places, went out fishing. He was always working on people's cars, just a good family man."
On Sunday, mourners gathered at the site of the crash to pay tribute to the victims and leave flowers and toys.
A  GoFundMe page set up by Westville Power Boat to help the families with funeral expenses has so far raised over $40,000.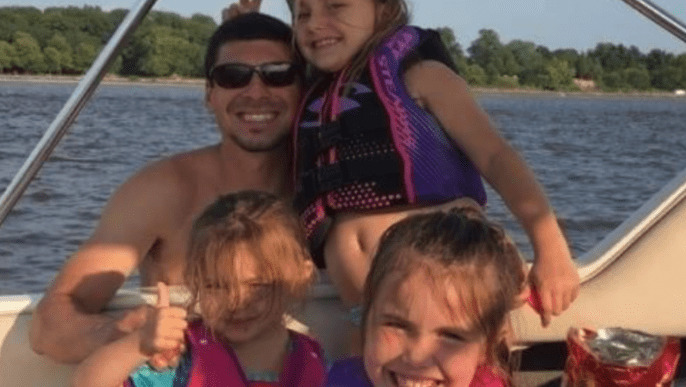 "George and all three girls were family to the club so we want to give George and the girls, Elsie, Alivia, and Kenzie, the memorial they deserve to honor their memory and say our last goodbyes," the page reads.
"They have touched the lives of so many and it's our turn to show our appreciation for George and the girls one last time."
My heart goes out to the family of this man and these beautiful girls; rest in peace.
Please share.